4. Pinsa Romana or Pinsa – Roman Hand-Pressed Pizza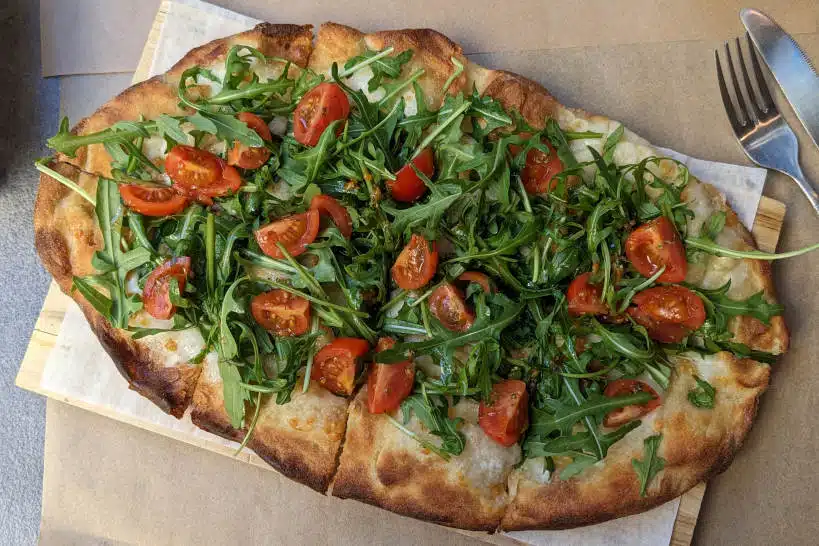 Pinsa Romana, also known simply as Pinsa, is a type of hand-pressed pizza that originated in Rome, Italy.
The word "Pinsa" means to stretch, spread, or press.
Compared to traditional pizza, the Pinsa crust is lighter and airier, like a cloud of dough. Pinsa Romana is sometimes described as a cloud-like pizza. 
The lighter and airy Pinsa crust is due to the combination of flours used and stretching techniques.
Pinsa uses a mixture of flours, including spelt, rice, and wheat, with more water and less salt. The dough takes a long time to rise, making it easy to digest.
Pinsa is a staple item in the Rome street food scene. However, its heritage reaches back to Ancient Rome. 
In ancient times, those living outside the city made dough using a traditional method that combined ground cereals like millet, barley, and spelt with salt and herbs. 
This dough was hand stretched into a wholesome loaf. The stretching technique continues to be used today when making Pinsa.
While Pinsa toppings are similar to pizza toppings, the lighter dough makes all the difference.
We particularly enjoyed Pinsa with drinks for Italian aperitvo and appreciated its lighter and more digestible dough.