Top Sicily Cooking Classes
1. The Sicilian Pantry – Cooking Class In Palermo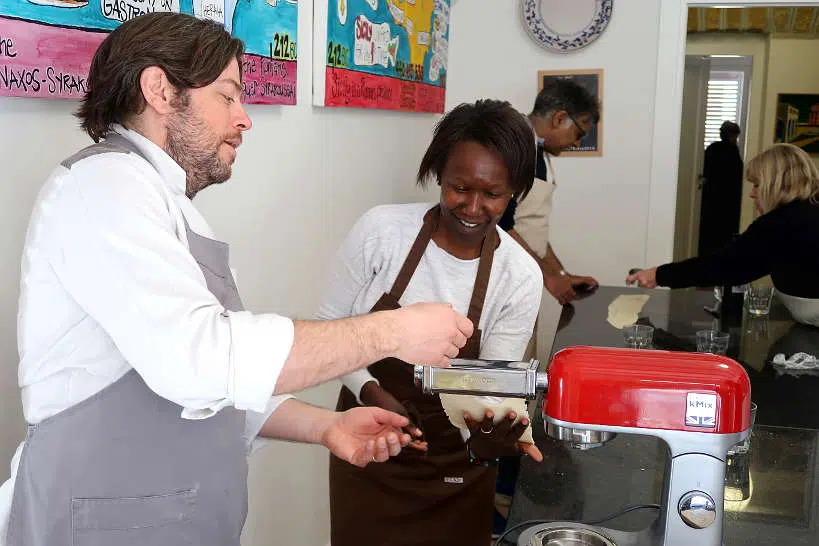 Taking a cooking class in Palermo, Sicily's capital, was one of our favorite activities during our long stay on the island.
Looking for a class to learn how to make authentic Sicilian dishes, the Sicilian Pantry was highly recommended by locals.
Offering half day cooking classes with a visit to a Palermo historical market, we were sold and signed up immediately.
Cooking classes at The Sicilian Pantry start at 10:00 am with a fascinating visit to Mercato del Capo, one of Palermo's main markets. 
At the market, you get introduced to the seasonal products, learn about Sicilian food culture while picking up ingredients for the class.
At chef Michael's home, you'll prepare a 4-course Sicilian menu including a starter, pasta, main course and dessert.
During our visit, we learned to make four delicious Sicilian specialties. Using fresh artichokes we had picked up earlier, we learned to make carciofi fritti or fried artichokes.
Making fresh pasta from scratch was a fascinating experience. It was not as intimidating as we thought and the ingredients were surprisingly simple.
Delicious swordfish cooked in extra-virgin olive oil was a delightful main course. And learning how to make the famous Sicilian cannoli for dessert was the perfect sweet finish.
While the menu changes depending on the season, you'll nonethless learn how to make local Sicilian specialties.
Chef Michael's hands-on training is rich in techniques and insights into the local culture.
The about 4.5 hour class ends with sit down lunch. Together, you'll enjoy the delicious food you made along with local Sicilian wine and homemade liquor.
This cooking class Palermo is so much fun and the experience is elevated by Michael's warmth and passion. Food lovers should not miss this cooking class in Sicily.
Cost: About US$96.33 per person  
Time and Length: Approximately 4.5 hours. Classes start around 10.00 am to 2.30 pm
Group Style: Small group cooking classes conducted in English
RELATED: 7 of The Best Food Tours in Sicily You Want To Try – Review