Posts may contain affiliate links. Read our full disclosure policy here.
If you look up Carmelita's in Laguna Beach on Yelp, you'll find over 2,000 near perfect 5-Star reviews. But it's not just their prime location only a few steps from the beach that has earned them these reviews. After my recent visit, it's clear, locals visit Carmelita's for their locally-sourced fresh ingredients which set their Mexican cuisine apart from the rest.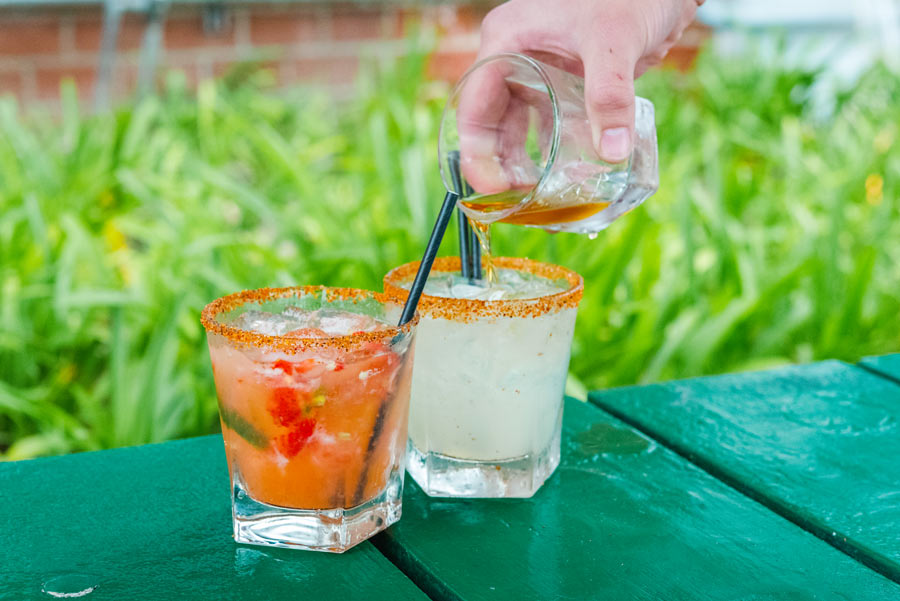 Strawberry Jalapeño Margarita
No Mexican restaurant visit would be complete without a signature margarita and Carmelita's Kitchen has my favorite in all of Orange County. Their Strawberry & Jalapeño Margarita is the perfect mix of Milagro Blanc tequila, fresh squeezed lime, muddled strawberries, and sliced jalapeños for the most flavorful balance of sweet and spicy flavors.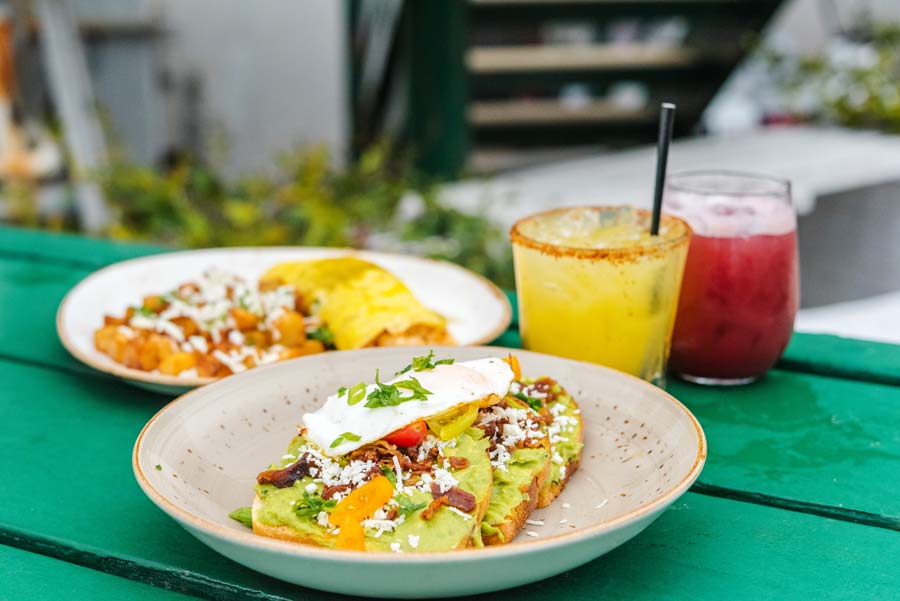 Fabulous Brunch
Orange County locals, love visiting Carmelita's in Laguna Beach for their fabulous brunch. During my visit, I started with their vibrant Avocado Toast. The creamy avocado was spread over thick rustic slices of bread and perfectly seasoned with flavors of zesty lime and cilantro. Gently poised atop were two pouched eggs with sprinkles of crispy bacon and crumbles of cojita cheese. Balancing out the dish was slices of fresh heirloom cherry tomatoes.
Shrimp & Crab Omelet
One of the most popular brunch items at Carmelita's is their Shrimp & Crab Omelet. Their billowy omelet arrived overflowing with shrimp. Inside was an entire crab leg which was a pleasant unexpected treat compared to the mixed-up bits of crab meat I've become more accustomed to receiving. Served on the side were the most crave-worthy crispy potatoes covered in a drizzle of sour cream with a hint of shredded cheese.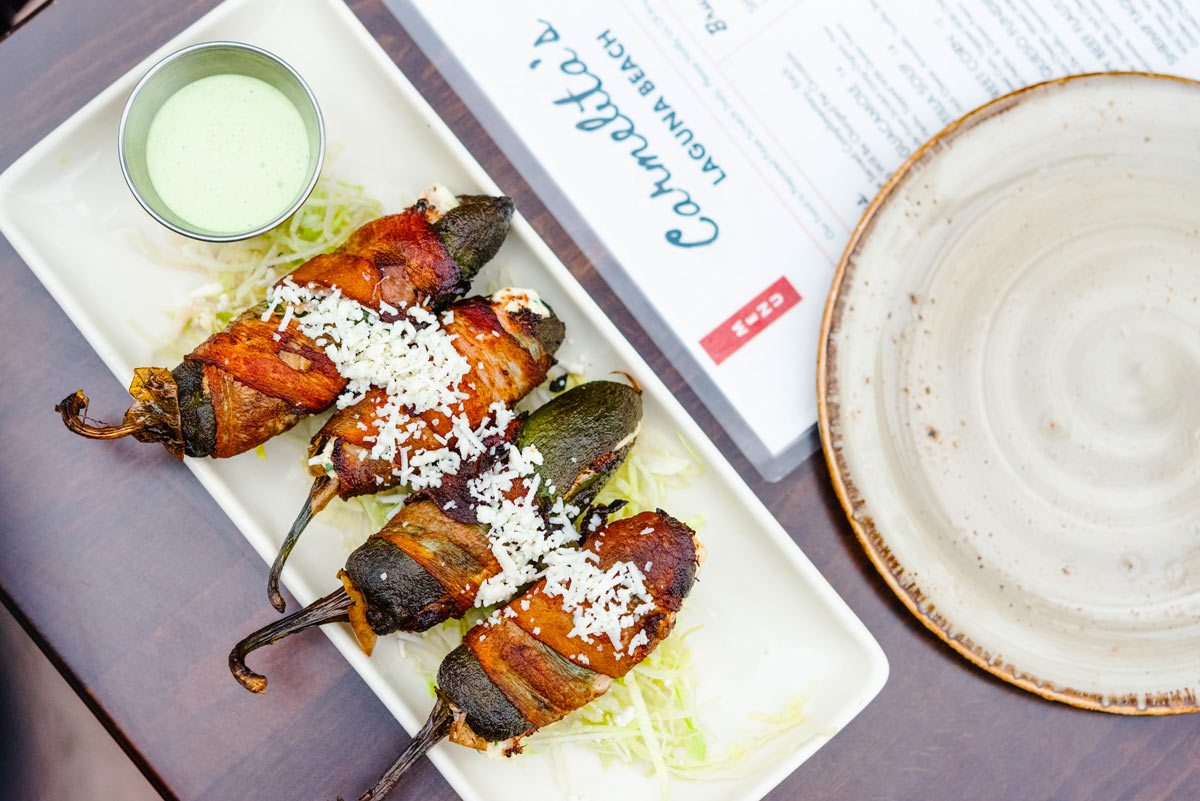 Stuffed Crab Jalapeño Appetizers
A visit to Carmelita's Kitchen wouldn't be complete without slicing into their mouth-watering Stuffed Crab Jalapeños wrapped in crispy bacon. Each bite has the perfect amount of heat balanced by the cool cream cheese stuffing and crisp salty bacon. These flavorful morsels are stuffed with large chunks of crab legs and are impossible not to devour in minutes.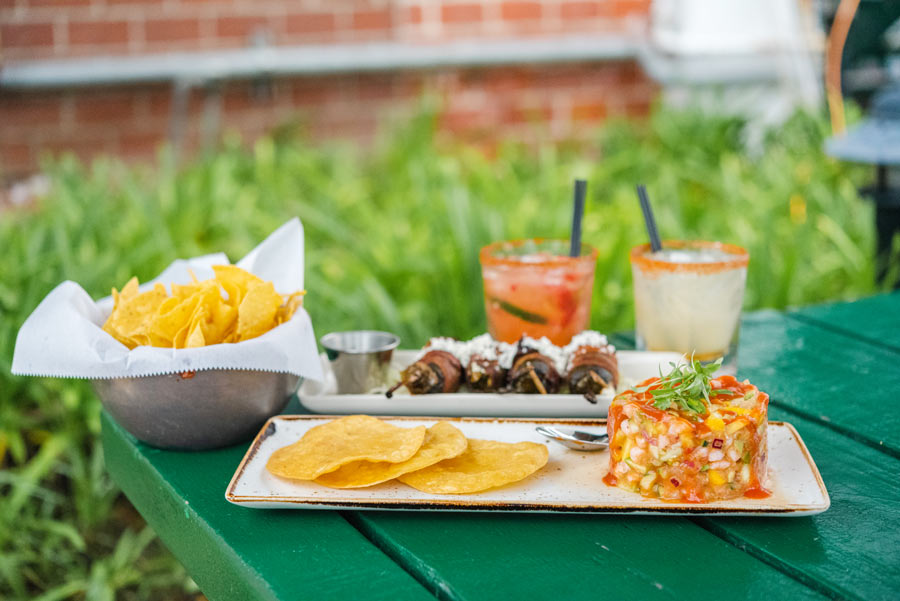 Seasonal Ceviche
If you're looking for the perfect summer appetizer, the light, and refreshing ceviche is the perfect crowd-pleaser. Our ceviche was beautifully presented with succulent coastal shrimp, fresh chunks of mango, cucumber, jalapeño, and red onion all mixed together with their secret cocktail sauce.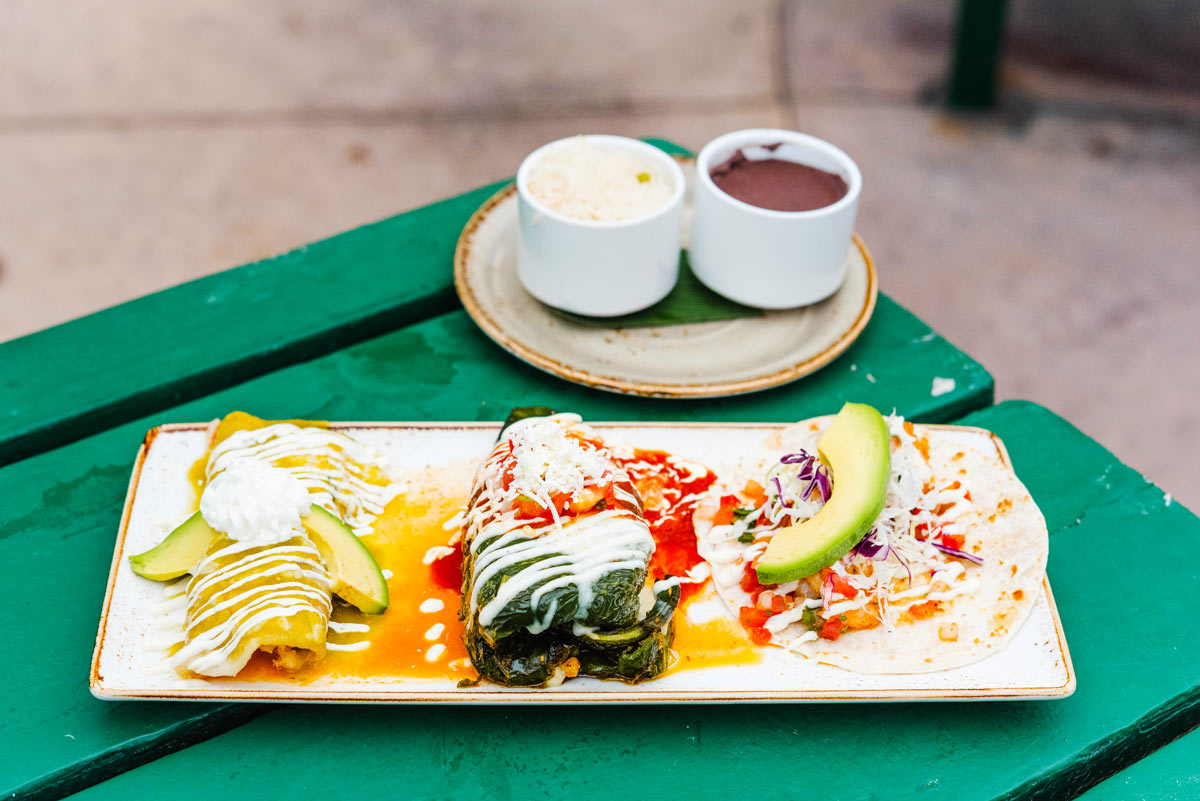 Mariscos Trio
The Mariscos Trio is without a doubt, the star of Carmelita's. This is almost like a secret menu item that is not always listed on their menu because all the locals already know this is a must-order. Luckily, thanks to all the yelp reviews, I knew exactly what to order! Our Mariscos Trio featured a lobster stuffed chili relleno, crab enchilada, and shrimp taco accompanied by a side of rice and black beans. We appreciated that the Chile relleno was not fried and really let the freshness of the ingredients shine.
This entree can easily be shared by a group of 2-4. Once our Mariscos Trio arrived, you could hear all the surrounding tables whisper to their servers. By the time we left, there was a Mariscos trio on almost every table! It is one of those, IYKYK items (if you know you know).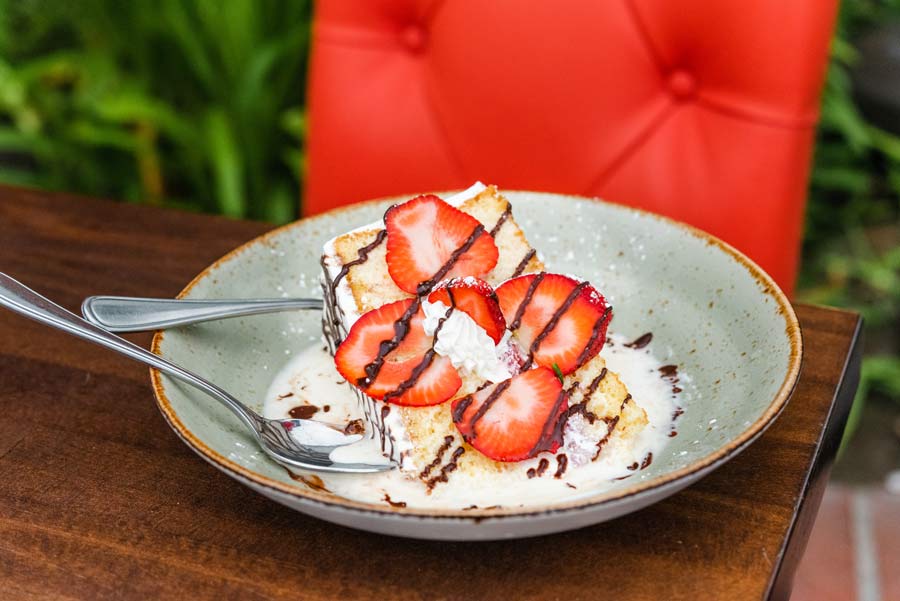 Tres Leches
For dessert, I can never resist a Tres Leches when I see it on the menu. This one did not disappoint. The leche sauce was poured over the cake upon ordering and each bite was a perfectly balanced texture of moist soaked cake and fresh strawberries.
Carmelita's Locations
Carmelitas has its primary location right off the PCH in Laguna Beach. It is a few mere steps away from the water. Their latest location is in Dana Point.
Discover More Orange County Restaurants