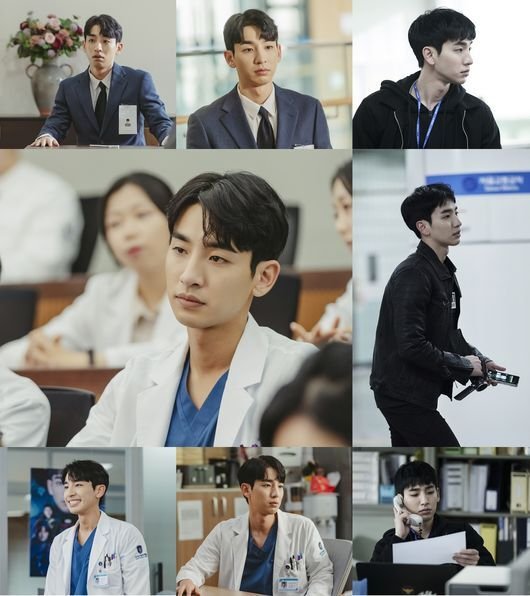 Song Ji Ho portrays the character of Seo Jeong Min, a first-year resident and the son who assists Uhm Jung Hwa's character in the JTBC weekend drama Doctor Cha. He showcases exceptional character portrayal and captivates the audience with his unique acting abilities. Let's revisit the remarkable performance of Doctor Cha's scene-stealer, Song Ji Ho.
Inexperienced but Passionate! Immersed in the Character of First-Year Resident 'Seo Jeong Min'!
Jeong Min, who aspired to become a PD for a broadcasting station, followed his father's wishes and entered medical school. He struggles as a first-year resident, showing his inexperience in his work and relatable moments of making mistakes due to inadequate preparation. Despite his lack of skills, Song Ji Ho's passionate portrayal of Seo Jeong Min's character and his realism-filled acting has drawn admiration from viewers.
Overflowing Chemistry, from the Adorable 'Son' to the Playful 'Younger Boyfriend'!
The chemistry between Song Ji Ho and Uhm Jung Hwa also caught attention. Jeong Min lives the life of a first-year resident alongside his mother, Cha Jung Sook (played by Uhm Jung Hwa). He grumbles in response to Jung Sook's constant work-related questions but shows his supportive nature as a son who helps when needed. He even holds a family meeting, anxious about whether his mother will find out about his father Seo In Ho's (played by Kim Byung Chul) double life. Song Ji Ho perfectly portrays the filial son, Seo Jeong Min, who is full of love and wishes his mother won't get hurt.
Seo Jeong Min's romance chemistry is also irresistible. Playing the role of Jeong Min, who secretly dates senior doctor Jeon So Ra (played by Jo Aram), he displays the charm of a playful and affectionate younger boyfriend, even while experiencing a mix of emotions when they meet in public places.
Diverse Acting Spectrum! A Masterful Scene-Stealer Leaves an Impression.
Song Ji Ho has appeared in prominent and diverse works such as the drama 'Never Give Up,' tvN's 'Stranger Season 1, 2,' 'Search: WWW,' and OCN's 'God's Quiz: Reboot.' He has taken on various characters, including a son burdened with his father's debt, a sharp-witted member of a powerful team, a successful marketing team leader, and a professional judge. With his wide acting spectrum showcased in his previous works, there is much anticipation for how Song Ji Ho will portray Seo Jeong Min in  Doctor Cha.
Source