After the staggering success of Physical: 100, the global streaming service Netflix is coming up with another Korean reality show Siren: Survive the Island. 
Siren: Survive the Island is an exhilarating survival combat variety program that features 24 women with unparalleled combat skills and strategic prowess. They form six teams based on their different professions and fiercely clash in intense battles on an uncharted island.
The main poster showcases the island enveloped in darkness, with the main arena engulfed in blazing flames, creating a visually striking image. The arena, surrounded by billowing black smoke, sets the stage for a merciless clash between the 24 participants, with professions such as police officers, firefighters, bodyguards, stunt performers, soldiers, and athletes. The caption, "Survive for seven days on an isolated island and stake your honor", hints at the ruthless and unforgiving nature of the competition.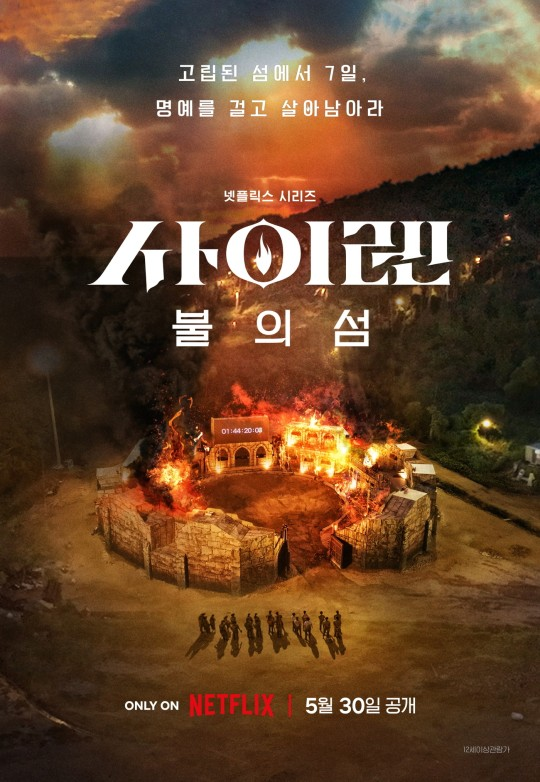 In addition to the arena battles held in the main arena, the 24 women will also undertake base capture missions, where they must seize each other's bases, as well as challenging missions that require self-sufficiency for six nights and seven days on the secluded island. 
The accompanying teaser unveils the vast and enigmatic island, offering a glimpse of the breathtaking scale of the show. Against the backdrop of the entire isolated island, the participants are seen engulfed in survival and combat challenges. Their fierce determination is evident as they shout for their team's rescue or make resolute statements such as "I came here to see if anyone could beat me". The teaser effectively builds anticipation and curiosity about the teams' survival and who will emerge as the strongest.
Furthermore, the teaser showcases the participants' struggle and confrontation in diverse terrains, including tidal flats and dense forests, heightening the audience's curiosity about the extreme situations the participants will face. 
Director Lee Eun Kyung commented, "I tried to build Siren: Survive the Island by thoroughly considering the perspectives of the participants to find out how these women, who regard honor as their life, would stand out and what would motivate them". 
Siren: Survive the Island will premiere on May 30, with a total of 10 episodes airing over two weeks. Catch the show on Netflix. 
While you wait for the show's release, check out the Netflix teaser here. 
Source