All the way back in 2020, I watched the very first season of Raise de wa Chanto Shimasu. For me, this particular live-action adaptation was a major antithesis to the majority of what was being produced at the time. I was beyond worn-out from the high school dramas, with the PG-13, maybe imply a lot off screen sort of deal.
Raise de was Chanto Shimasu wore it's heart on it's sleeve, and by heart I mean a condom because these characters FUCKED – and it wasn't completely condemned. Despite the somewhat crude way some of the scenes and character dynamics developed. This series was incredibly earnest in delivery, you can review my full thoughts here.
That delivery combined with cast chemistry and premise scored this drama a second season, a three episode mini-series, a New Year's special, and a third season. That's nothing to sneeze at either, since it's rare for a series considered this raunchy to be renewed for additional materials like that.
I'm both glad, and not that I didn't watch these follow-ups as they were airing. I, in a rare streak of marathoning this series, finished all the above mentioned in a span of four days. Unashamedly, and despite knowing it would wreck my sleep schedule, I stayed up until 4AM finishing the final season (as of writing). I got THAT hooked into the story.
---
One of the major reasons, is that Raise de wa Chanto Shimasu has an incredibly strong narrative style. There is a narrator that has a rather blasé tone of voice that guides the story. The voice reads out the title of each "chapter", and towards the end gives a cheeky comment summarizing the series of events. Despite the contents of these scenes getting intense, weird, or wild, the narrator always manages to throw a damp towel on the situation and make it grounded. The only weakness to this particular narrative device is that it was used less often as the season's progressed. Marking longer narrative conflicts being held over the course of said season, verses on an episode by episode basis.
The second is that while the focus is on our female protagonist Omori Momoe (Uchida Rio) – her co-workers Takasugi Ume (Ota Rina), Matsuda Ken (Koseki Yuta), Hayashi Masaru (Goto Takanori), and Hiyama Toru (Tobinaga Tsubasa) have unique and interesting stories as well. Each character comes a very different background, that just somehow ended up being an animator at Studio Delta. It's really that simple. But knowing these characters are so different in their private lives, makes it all the more interesting to watch where their romantic lives overlap, both literally and metaphorically, and where and why they diverge so often. These characters despite their face-value labels, feel and act like real people.
I particularly found Takasugi Ume's story to be the most unique. She's canonically asexual, having admitted to never been romantically attracted to anyone regardless of gender or orientation. Yet, she also does have a curiosity of sexual relationships that she explores most often from reading BL comics/doujinshi and then attempting to write them herself. She's also perceived as being a desirable woman in Japan, thus subjected to the norms of her mother who wants her to get married, have kids, etc. Seeing Ume explore all these things, including but not limited to even a matchmaker for marriage specifically, and her perspective was so unique and engaging. Every character, male or female just accepted Ume as she was, and that she was in fact a whole person with nothing "wrong" with them was so validating for me to witness. The furthering point that Ume despite not experiencing attraction like that, was still regularly consulted by Momoe and other characters about their relationships was such a refreshing watch.
It's worth noting that the male characters all have very unique struggles. Hayashi Masaru, despite his physical characteristics is actually quite the romantic. A bit misguided with his quest for a "pure" girl to have a relationship, but the fact he falls almost face-first into the types of situations most bland protagonists of a harem anime could only dream of and rejects these moments, was subversive. His complicated feelings towards Maki, his neighbor and a soapland worker, as well as his relationship with Nagi whose transitioning but presents as female are rather raw and under-explored in most mainstream media in Japan. While Hayashi's actions are always rooted in honesty, the results are rather mixed at best. Sometimes he's a bit too honest for his own good, and that's what both attracts and repels people to him.
Of course, something I begged for from season one, that Matsuda and Omori would get together, does see some major progress in the second and more specifically the third, season. It's also not nearly as superficial as one might expect from two adult-sluts (their words not mine) since a lot of their interactions are anything but romantic. From interruptions, past relationship interference, and general over-the-top shenanigans from tight deadlines – there's a lot of growth from the duo.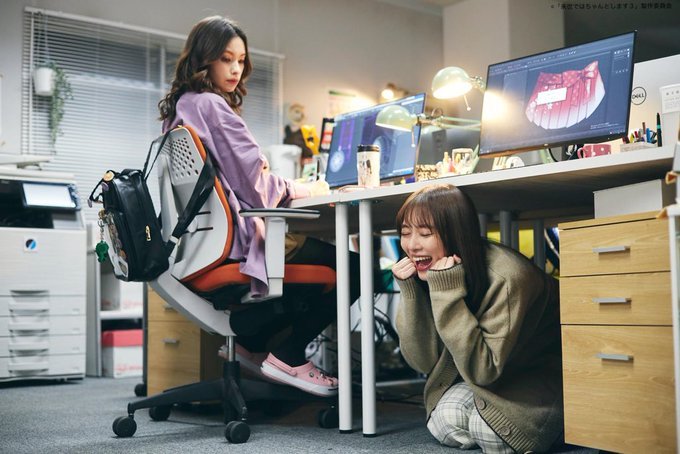 When it comes down to it, the reason all these characters work is because there's a surprising amount of mutual respect between them all. While certain characters tend to hide aspects of themselves, Hiyama never tells anyone in the office about his relationship with Kokoro-chan the soapland worker, Ume's friend Ringo-chan hides her deepest desires in manga, etc – the details that are widely shared amoungest one another are respected. No one at Studio Delta thinks Ume as lesser for being asexual. Matsuda and Hayashi have a fantastic bromance, despite being polar opposites in terms of the relationships they have. Every character aware of Nagi's circumstances, 100% just treats her with respect and takes her as she is. Post-watch this feels a little unrealistic, but in the context of the story it really allows the characters to have really heart-felt and deep moments with one another.
Transitioning to more technical aspects, Raise de wa Chanto Shimasu as a series has a very consistent level of integrity. The series works because the technical aspects are rather modest. The story can get absolutely wild, so having the camera work, lighting, and other behind-the-scenes elements remain so ordinary keeps it grounded. It really makes me appreciate that both Miki Koichiro and Yuasa Hiroki stayed on board for all three seasons as directors. Anyone else who took the reigns in-between also clearly did their best to emulate and respect the groundwork previously laid. All of this combined, including the aforementioned narrator, really just made for a smooth transition from season to season that made a very cohesive series.
Overall, this franchise does have it's ups and downs. Season one and three are the strongest for me personally, with season two taking a small dip in quality. The mini series is take it or leave it material – a little too short to make it into a full episode, but just long enough and edited enough to be repurposed as it was. I thought the Special was fun, really delving into how Omori and A-kun met, and then lots of unique commentary about their first dreams of the new year. However it's not essential to watch in order to appreciate season three.
I personally love Raise de wa Chanto Shimasu as a franchise. I think the vigor in which I got myself caught up demonstrates that. While the series is wrapped in the more sexy and at times campy elements – there is some genuinely deep commentary about what it means to be in a relationship, and what that means to various people. While not available legally, if you search around you can find it with English subtitles and I highly recommend checking it out if anything piqued your interest.